Boost your career with the atingi
eAcademy Tourism and Hospitality
Join our high level self-paced courses and blended learning environments and certify your skills and competencies by first class employers of the tourism and hospitality industry.
Learn more about the eAcademy
View Transcript

Welcome to the eAcademy.This is a place, where tourism and hospitality professionals can get professional training.

Look around, we're not limited by a physical classroom. It can be a remote village, at work on your lunch break, or at home. All you need is a mobile phone, email account, internet access and data. You can learn at your own pace. The eAcademy wants to make learning available to people who find it hard to access training. Research shows that people remember learning when it's delivered in small bites. So the eAcademy got the learning experts together with tourism and hospitality professionals to create accessible, innovative ways of learning. The eAcademy opens doors to lifelong learning. The platform offers a range of learning options; with short courses for both managers and frontline staff. The eAcademy has benefits for students & employers. This is a blended learning environment. It combines online materials and interactions with more traditional methods. We have flexible learning options and experiences. There could be field exercises, videos, tutoring, webinars and online chats with industry pros. As students, we have some control over our time, place and pace of learning. The eAcademy offers a broad range of subjects.

You can enroll in courses that fit your needs and knowledge. The current program includes engaging courses on tour guiding, COVID-19 hygiene standards, resiliency, entrepreneurship and sustainability.

You can choose your own path to enhance your professional skills.

What do you gain from the eAcademy courses?

It's a digital certificate. That's how educators award achievement, learners stack their experiences and employers find the perfect match and upskill their teams. The digital badge is an online representation of a skill you've earned. Earners can combine multiple badges from different issuers to tell the complete story of their achievements both online and offline.

Badges can be displayed wherever earners want them on the web and share them for
employment. The badges have value because employers and businesses endorse and
accept the badges as proof of your achievement.

The eAcademy provides a platform for lifelong learning and your own pursuit of knowledge, for personal or professional reasons. It's a place where professionals and businesses can develop employability and positive developments in their community.

We're in a knowledge economy now. That means individuals and organisations must engage in continuous learning to be adaptable and flexible for whatever the future brings. For me, the eAcademy is time well spent to focus my career and take me further to achieve my goals.

So brothers and sisters, join me and start your lifelong learning now.
Voir la transcription

Bienvenue à l'eAcademy. C'est un endroit où les professionnels du tourisme et de l'hôtellerie peuvent suivre des formations professionnelles.

Regardez autour de vous. Nous ne sommes pas limités par les quatre murs d'une salle de classe. Vous pouvez étudier depuis un village isolé, pendant votre pause repas au travail, ou à la maison. Tout ce dont vous avez besoin, c'est d'un téléphone portable, d'une adresse email, d'un accès à Internet et d'une connexion. Vous apprenez à votre rythme. L'objectif d'eAcademy, c'est de rendre l'apprentissage accessible à ceux qui ont du mal à y avoir accès. Les recherches montrent que les gens assimilent mieux les apprentissages quand les nouvelles informations arrivent petit à petit. Alors, eAcademy a réuni des experts de l'éducation et des professionnels du tourisme et de l'hôtellerie pour créer des manières d'apprendre accessibles et innovantes. Avec eAcademy, on peut apprendre durant toute sa vie. La plateforme propose une variété d'options d'apprentissage ; les leçons sont courtes et elles conviennent aussi bien aux managers qu'au personnel. eAcadamy bénéficie aux étudiants et aux employeurs. L'environnement d'apprentissage est varié. Il mélange documents en ligne et méthodes plus traditionnelles. Nos options d'apprentissage et nos expériences sont flexibles. Il peut s'agir d'exercices de terrain, de vidéos, de tutorat, de webinaires et de discussions en ligne avec des pro de l'industrie. Les élèves contrôlent le temps qu'ils consacrent aux apprentissages, choisissent leur rythme, et d'où ils travaillent. eAcademy propose un vaste choix de sujets.

Vous pouvez vous inscrire à des cours qui correspondent à vos besoins et à vos connaissances. Le programme actuel inclut des cours sur les personnes guides touristiques, sur les mesures d'hygiène contre la COVID-19, sur la résilience, l'entrepreneuriat et la durabilité.

Vous pouvez choisir votre propre chemin pour développer vos compétences professionnelles.

Qu'allez-vous gagner en suivant les cours de l'eAcademy ?

C'est un certificat numérique. C'est ainsi que les enseignants récompensent les résultats, que les élèves accumulent de l'expérience et que les employeurs trouvent le candidat idéal et font progresser leurs effectifs. Le badge numérique est une représentation en ligne des capacités que vous avez acquises. Il est possible de cumuler plusieurs badges qui proviennent de sources différentes et qui racontent l'histoire de vos réussites aussi bien en ligne qu'en présentiel.

Les badges peuvent être présentés partout où les élèves le souhaitent sur le web aussi bien que lors de leur recherche d'emploi.
Les badges ont de la valeur car les employeurs et les entreprises reconnaissent et
acceptent les badges comme une preuve de vos réalisations.

eAcademy fournit une plateforme qui permet d'apprendre toute sa vie et d'avoir toujours plus de nouvelles connaissances, que ce soit pour des raisons personnelles ou professionnelles. C'est un endroit où les professionnels et les entreprises peuvent augmenter l'employabilité et les développements positifs de leur communauté ;

Nous sommes désormais dans une économie du savoir. Cela signifie que les individus et les organisations doivent apprendre constamment et être capables de s'adapter et d'être flexibles pour faire face à ce que le futur leur réserve. Pour ma part, l'eAcademy permet de mettre à profit mon temps pour me concentrer sur ma carrière et ainsi me permettre d'atteindre mes objectifs.

Alors, mes amis, rejoignez-moi et commencez dès maintenant votre vie d'apprentissage.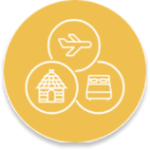 Make your skills and competencies visible to employers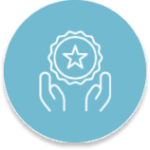 Gain innovative digital credentials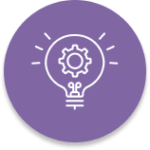 Upskill your competencies free of charge
Learn anywhere and anytime you wish
Collaborate with peers in our blended learning environments
Healthy, Safety and Hygiene
Earn open badges from top employers
Open badges are a transparent, innovative way to depict your competencies and skills. Display them on your CV and LinkedIn for employers. These badges make your skills and competences transparent and clear to employers, and just might give you an edge for securing a job interview.